DAVE NAGLE: For Iowans, a quantum of solace
I suspect Iowa is the source of great frustration, anger, and envy for the other 49 states of the union.
Those states, just like Iowa, spend millions of dollars trying to convince large and wealthy national and international corporations to stay or relocate in their state. Economic development departments print brochures, recommend tax cuts on commercial interests, and pay subsidies to entice companies to come to the promised land, whether it is Florida, Texas, or Nebraska.
Then we come along. In two months, we get more positive coverage of our state than all their millions of dollars and promises can generate. The football season has started, and for the next two-and-a-half months, football fans everywhere will be treated at the end of the first quarter of Iowa home games to what has become known as "The Wave."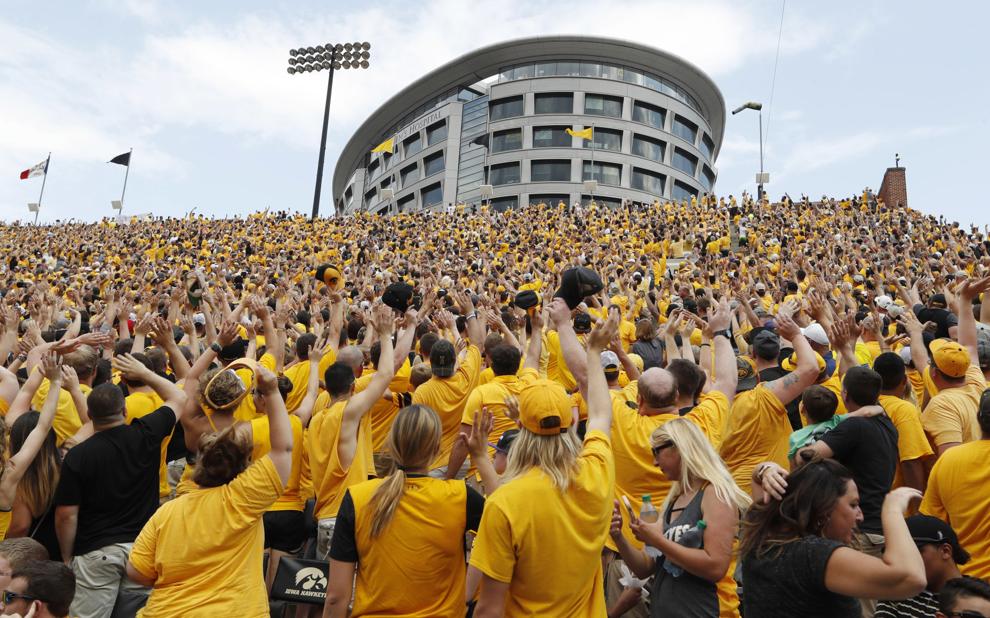 Sixty thousand fans, the coaches and members of both teams will turn to the University of Iowa's Stead Family Children's Hospital and acknowledge the brave kids fighting life-threatening diseases. You see that, and if your heart doesn't break you don't have one.
A month ago, baseball fans everywhere were treated to a magnificent major league contest in the small northeastern Iowa town of Dyersville. They heard the epic line from the film "Field of Dreams" — "Is this Heaven?" — and the response, "No, it's Iowa." It glorified small farming communities and a way of life foreign to city dwellers, which the Hawkeye state personifies.
Finally, every four years we are flooded with national presidential candidates, their staffs, and the accompanying press, both national and international. When the campaigns are over, they write with affection about "Iowa nice," which simply reflects our inherent consideration of the needs of others.
But here is what I don't understand. It is perfectly reasonable to believe that two fans in Kinnick Stadium, standing next to each and acknowledging the children above them, are opposites. One wants to wear a sidearm on their hip, the other would probably, if they tried, shoot themselves in the foot. One wants to raise the minimum wage and fund public schools, while the other believes their neighbor must be a communist.
We should have foreseen this development. Former President Jimmy Carter warned us of this when wrote in his book "Our Endangered Values," "The irresolvable differences … on sensitive social issues have been exacerbated by the insistence of intensely committed hardliners on imposing their minority view on a more moderate majority."
In Iowa, it is an open question which will become our dominant characteristic: our heritage or political division?
I think Albert Einstein could explain what is happening to us. Einstein held that time is not constant. A second isn't always a second. In exploring the relationship between space and time, he proposed that the faster an object moves the slower time expires. The classic explanation is that an astronaut traveling at near the speed of light ages more slowly than an individual standing on Earth. We have seen an explosion of our political life in the last two decades. We now have competing media outlets that reward extremism. With the arrival of Trumpism, to belittle, to deny, to make outrageous allegations, are now all methods to obtain political office.
I admit merging a theory of quantum physics to explain social changes may be a steep step, but our standards for political conduct are moving much more quickly than our measures of acceptable social conduct. This may help explain what is happening to us, also how to correct it.
I remember when the Green Bay Packers lost a couple games at the beginning of the season a few years ago and the uproar that followed. Their quarterback, Aaron Rodgers, said simply, "R-E-L-A-X." To Iowa, I write S-L-O-W D-O-W-N. You do that by taking the following steps. First, when responsible GOPers raise a question about the president's spending program and the impact it may have on inflation and the deficit, recognize those are reasonable questions and respond with reason. Secondly, don't ignore Trumpism, confront it. The California recall election proves the profit of that approach. Thirdly, to Democrats, stay on message about what you want to do, and see the benefits that will follow if done.
We are a state that lies between two mighty rivers. We are the best of rural America. We are not Florida, Nebraska, or Texas. We do not want to be.
Dave Nagle is a Waterloo attorney and former U.S. congressman.
Get opinion pieces, letters and editorials sent directly to your inbox weekly!