Experts are developing an online tool that will warn beachgoers about the likelihood of bluebottles invading the beach and ruining their swim.
Surf Life Saving Australia lead researcher Jaz Lawes said the BluebottleWatch project, in partnership with the University of NSW, aimed to predict the risk of bluebottles along Australia's east coast.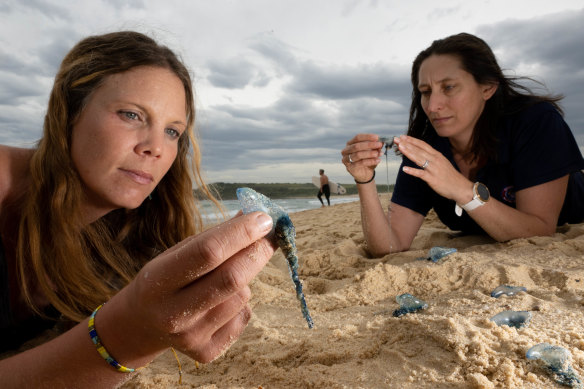 "This tool will provide real-time risk of encountering a bluebottle and their unpleasant stings at the beach they want to visit, and by doing so should reduce the number of stings treated by surf lifesavers," she said.
Surf lifesavers treat more than 40,000 marine stings around Australia every year – with bluebottles the main culprit.
Bluebottles are driven by wind and ocean currents rather than active swimming, Lawes said. "This also means that their movements and arrival to shore can be predicted using environmental data."
Lawes and University of NSW senior lecturer Amandine Schaeffer also want to enlist citizen scientists to upload data such as photos, locations, counts and measurements to the iNaturalist website.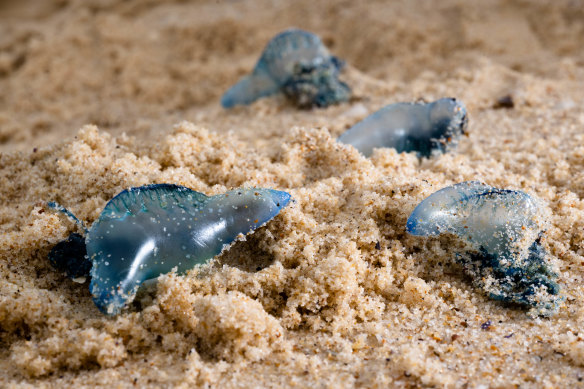 Bluebottles float at the ocean's surface but trail stinging tentacles up to three metres long below the surface.
Lawes said the tentacles contain nematocysts, or stinging cells, which she likened to "mini-harpoons all wound up and ready to discharge in case of finding some food – or accidentally, someone's arm or leg".
Loading
The stinging cells leave a red line where the tentacle has touched your skin, and can appear beaded with spots along the affected area.
NSW beaches were invaded by a "bloom" of bluebottles swept onshore by north-easterly winds in 2021, causing large numbers of beachgoers to be stung.
Scores of bluebottles also washed up on beaches around Australia earlier this year in "gobsmacking abundance", ABC News reported.
But research co-authored by Lawes and Schaeffer found north-easterly and south-easterly winds were the most likely to bring bluebottles to shore at beaches in Sydney's eastern suburbs.
"North-east is the most favourable wind condition for bluebottle beachings at Coogee and Maroubra, while it is dominantly south and south-east for Clovelly," Lawes said.
However, the proximity of bluebottles to the shore as well as ocean currents, waves and temperature also play a part in how many bluebottles invade a beach.
Bluebottle First Aid
Do not allow rubbing of the sting area.
Blue tentacles may remain after a sting and are distinctive for bluebottles. Carefully remove any adhering tentacles (remember they may still sting you if not all nematocysts have discharged).
Rinse the area well first with seawater, not freshwater, to remove any lingering stinging cells.
Place the affected sting area in hot water – no hotter than the rescuer can comfortably tolerate for 20 minutes.
If the pain is unrelieved by heat, or if hot water is not available, apply cold packs or ice in a dry plastic bag.
Send for medical aid if symptoms persist, or if an allergic reaction occurs.
– Surf Life Saving Australia
Loading
"We know that bluebottles are not hindered by cold ocean temperature in Sydney's winter – down to 15 degrees Celsius – but are much more common from October to April," Lawes said.
The same wind direction can also push bluebottles to different ends of the beach depending on whether they are left- or right-handed "meaning their floats sit either to the left or right of their body of tentacles", Lawes said.
However, scientists still do not know the lifespan of a bluebottle or how its behaviour influences where it travels.
Ambulances are only called for about 1 per cent of reported stings, Lawes said. "While not lethal, bluebottle stings can deliver intensely painful stings which, albeit rarely, can induce anaphylactic and systemic physiological responses – that can really hurt, endanger the patient and take several hours to subside."
While uncommon, Lawes said an intense reaction can lead to cramping or clenching of muscles that make it difficult to swim back to shore.
Matthew Moore was swimming at Coogee Beach when he felt an unmistakable searing pain across his arm. He stopped to find himself surrounded by an armada of bluebottles.
"There were dozens around me, and so I treaded water," he said. "But even the slightest movement of your hands or legs would just pull in these tentacles, which would give you a burning intense sting."
Moore was unable to swim back to shore, but was plucked from the water by a lifesaver "by which time I had been stung about eight times".
Moore's encounter left him with blisters around his arms, neck and chest that lasted several days.
Loading
"I was not in great shape," he said. "I went home and collapsed and slept for about four hours."
Australian Marine Stinger Advisory Service director Lisa-Ann Gershwin said she could not picture swimmers donning protective swimwear for bluebottles: "It's just one of those things you take on the chin, like flies in the outback or mozzies after rain."
But swimmers might need to wear stinger suits in the ocean to protect against other marine nasties such as the Morbakka jellyfish, which Gershwin said can be life-threatening but currently seems rare. "If Morbakka gets more common or more venomous, I think it would be prudent."
The Morning Edition newsletter is our guide to the day's most important and interesting stories, analysis and insights. Sign up here.