The Viking Journey: Adventures in Iceland
1 of 3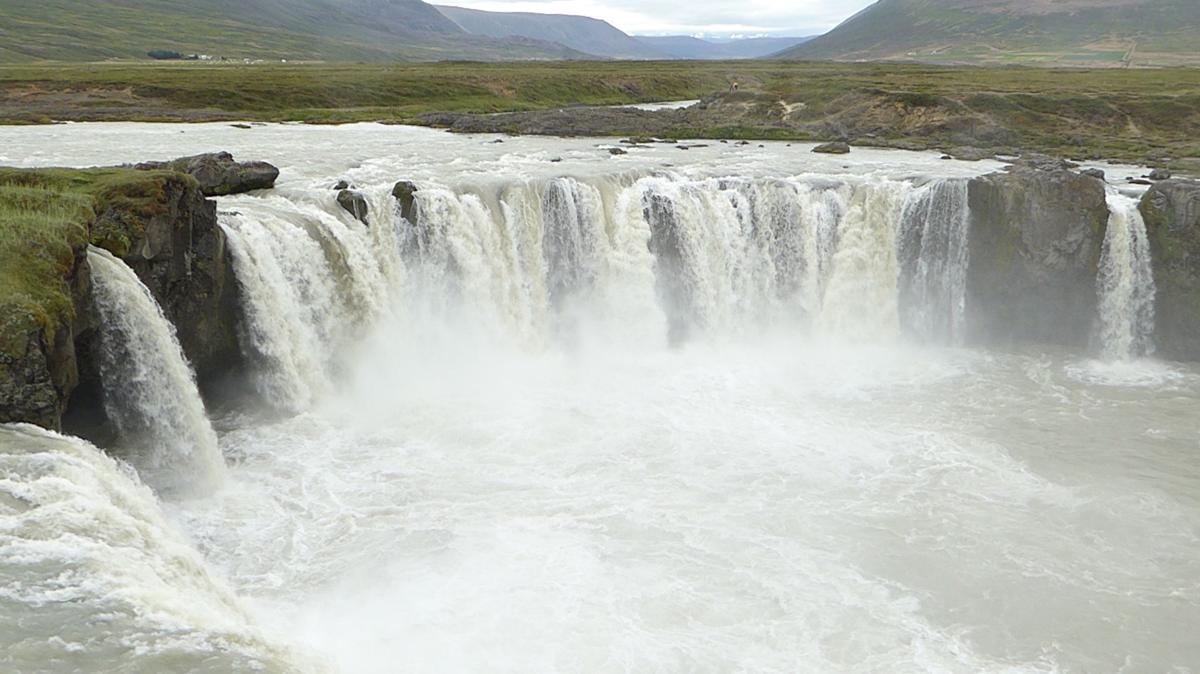 Goðafoss waterfall is on Skjalandafljot River in northern Iceland with water coming from the Vatnajökull Glacier.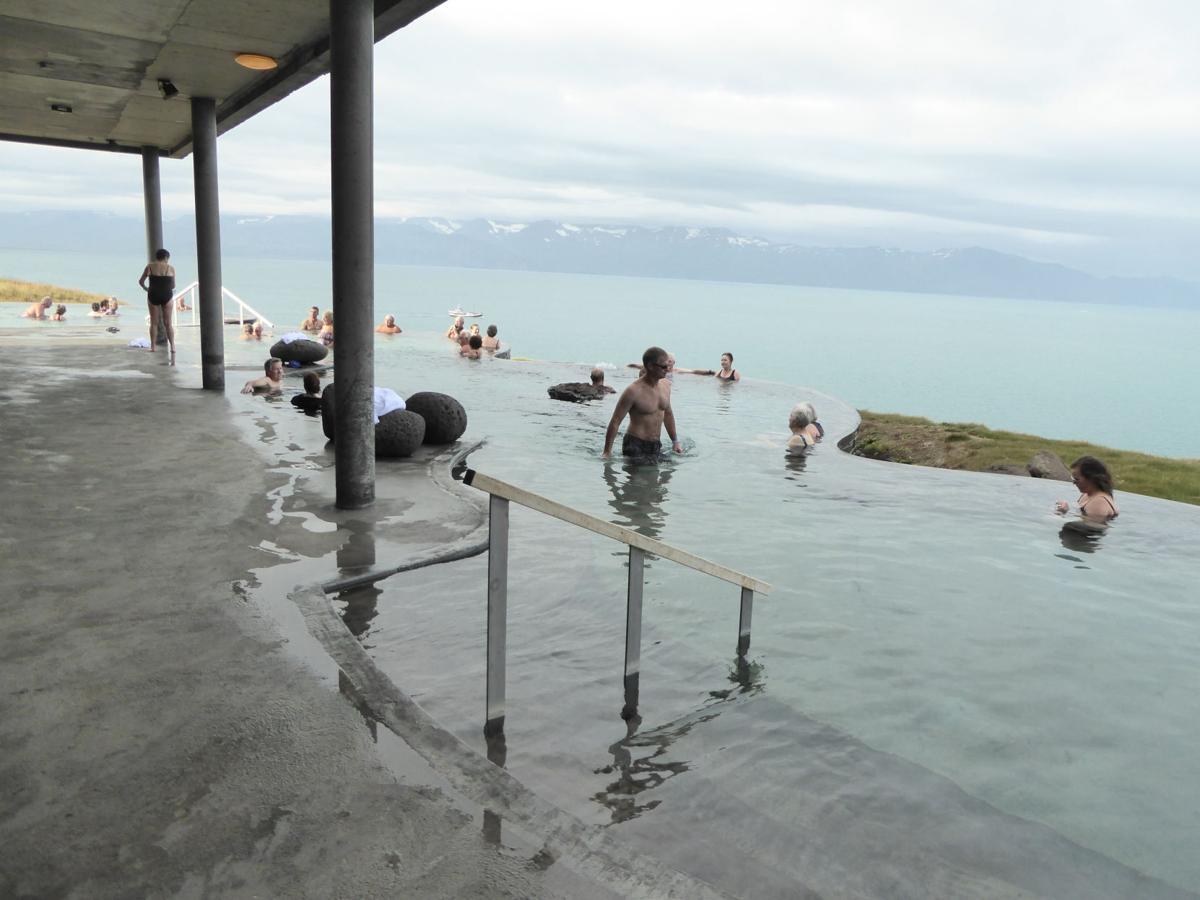 Husavik Geobath, overlooking the fjord.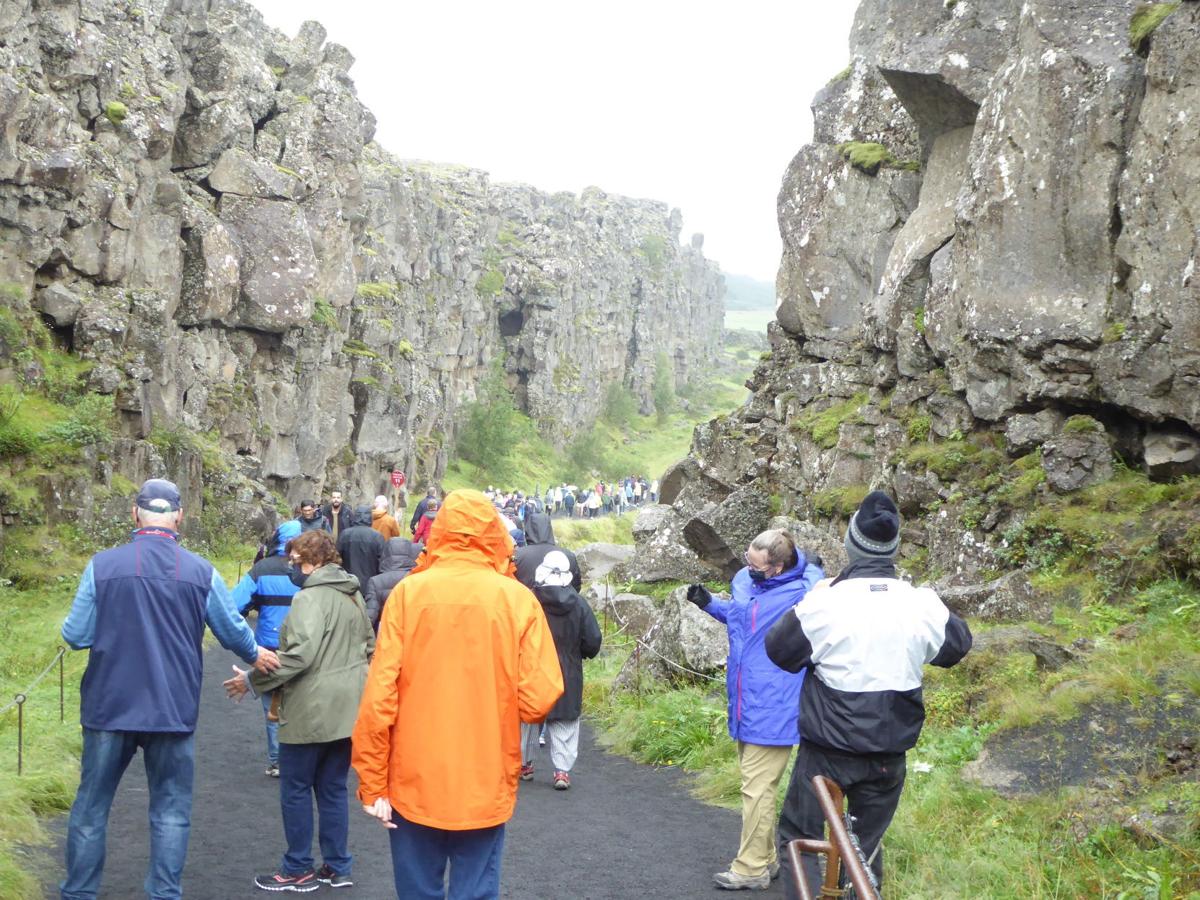 Hikers in the Ttingvellir National Park in the Mid Atlantic Ridge in Iceland. 
JED CHRISTENSEN
Finally, after waiting more than a year and a half, my wife Kathy and I were finally able to start traveling again, so we hooked up with Viking Cruises to circumvent Iceland.
We were hoping that the volcanic eruptions of 2010 of Eyjafjallajokull (yes, that's spelled right, but try and say it) didn't occur again while we were there. Those eruptions caused enormous disruption to air travel across western and northern Europe for weeks. More than 20 countries (and 10 million travelers) were affected as air space was closed to commercial jet traffic. It was the highest level of air travel disruption since World War II. 
We flew from Seattle to Keflavik airport in Iceland where my friend Vic Chiarella was stationed at the U.S. Navy Communications Station in 1964-65 as a spy (well, I am guessing that's what he was, being a communications specialist and all). The U.S. had a military presence here until 2006, established during WWII,  but it's still available for U.S operations, if needed, since the Russian Navy is increasing its presence in the Arctic.
Reykjavik, meaning "smoke cove," due to the steam rising from the hot springs in the area, is the world's northernmost capital city, established in 1786. Iceland was a colony of Denmark until June 17, 1944, unlike Greenland, which is still a Danish possession. Being the intrepid scientist that I am, I can tell you that once Greenland's glaciers melt, which will be about the time all cars in California go totally electric, there won't be much left of the actual landmass. Since Denmark was under German control during 1944, Iceland decided that that was a perfect time to declare their independence, since there was nothing Denmark could do about it.
I want you to trust me when I note the names of the towns, ports, volcanos etc. that we visited — that's really how they're spelled, in Icelandic. I have no idea how to actually say any of those words, and I'm not sure the Icelanders do either, because when I'd ask them, I swear none of them said things the same way. So, yes, the words are spelled correctly and I'm not even going to try to phonetically sound them out. Like the Njardvikurskridur Track. I know, you don't care what the name of the road is. I just wanted you to say it. It goes through an area where a terrifying half man-half beast harassed and attacked passing travelers to guard the route until John from Njardvik forced it into the sea; so we could go unbothered to the village of Bakkagerdi, where we saw a renovated turf house, built in 1899.
I might mention that as we were going through that area and our guide was denigrating the ogre myth, our bus had a flat tire in the middle of a lava field with nothing around us. Iceland doesn't have AAA roadside service, but they have something called FIB, the Félag Islenskra Bifreidaeigenda.
Fortunately, due to COVID disquietude (yes, I went to the thesaurus for this word), we only had 22 people on the bus, rather than the full load of 44, so the guide called the other half-full bus that was following us to load us up to take us to the Dynjandi Waterfall, which was very impressive, 99 meters high, 30 meters wide at the top and 60 meters wide at the bottom.
After seeing that water spectacle, we went to Bolungarvik Village for lamb soup and hardy freshly buttered bread, which was delicious. The village dates back to the first settlers who fished for the Breen shark, a trash fish wanted only for its liver; the oil was extracted and sold for lamp oil.
The next day we went on another "shore excursion" out of Isafjodur to a glacial waterfall. This story isn't for the weak of heart, so let me say, upfront, that Napa's drinking water is purified and sterilized per EPA regs to one-millionth of a liter. It tastes slightly chemically, but it can't hurt you and you can't sue Joy Eldredge, Napa's Water Utilities Director, EVER, for poisoning you.
Back to Isafjordur water, the guide went down to the glacial stream that was pouring down the mountain's creek bed, filled a plastic pitcher with water and proceeded to pour all of us (I guess he felt that as tourists, we were expendable) a cup of untreated creek water.
Being from California, I was horrified. I told him to drink some himself and if he was OK in 30 minutes, we might try it. We waited; he didn't die, so I took the cup of glacial water, swirled it like any good oenophile, and found it tasted like the chemical free-water we had as kids — and we're still alive to talk about it.
The entire nation of Iceland was locked down during our trip, due to COVID. Usually, on trips like this you visit tourist sites and walk around the little towns, do some shopping and buy stuff you had no earthly use for, eat lunch on your own, chat up the locals and just enjoy the place. Not during our trip: we'd get on a bus, go to the designated site, reload and go back to the ship.
The Viking ship was wonderful, and aboard it, you could eat, drink and be entertained all day and half the night, and many people did just that. COVID protocol was tight. Mask wearing at all times unless eating, wearing a tracking device so that if somebody tested positive for COVID, they would know who that person had been in contact with, and every morning before eating, drinking or brushing your teeth, you had to spit 2 mgs into a tube.
Needless to say the very thought of doing that dried up your spitless mouth, so I offered the room steward, who was from Uzbekistan, 5,000 Icelandic kronas if he'd spit in the tube for me each morning. He was perplexed, so I asked him if he had Venmo, or Paypal so I could deposit the said 5,000 Kronas into his account. He didn't refuse, he just left, and about an hour later, his boss tapped me on the shoulder and told he to leave the steward alone and not try to avoid COVID protocol. So much for joking around!
The Chad Sandwich: We were visiting a geothermal plant to see the boiling mud pots, the exploding geyser, and the facility that "harnesses" the hot water for electricity and pipes it for heating homes and buildings.
A couple of the workers there were bored and spent a couple of years figuring out how to build a hot water cooker that would bake rye bread. It steams the dough in tin cans in a hot water bath for four hours; it is called "thunder bread" due to the after-effects if you eat too much it in one sitting. At the plant Kathy bought a sandwich of the dark rye bread, spread with sweet butter, with a big slab of fish (chad) on it. She swears that it was the best food she tasted on the whole trip.
A highlight was spending two hours in the Husavik Geobath,with three pools, ranging in temperatures from 95 to 105 degrees and a swim-up bar. It easily accommodated 50 people as we overlooked the fjord below, watched boat traffic and felt the heat doing its job of total relaxation.
On the way back to the ship we stopped to see the Gooafoss Waterfall on the Skjalfandafljot River, water coming from the Vatnajokull Glacier. Picture perfect.
As we traveled, the guide told us elf and troll stories, which are apparently common in Iceland. Then he talked about the political structure and the graduated tax system, with rates as high as 42%. He said everybody complains except the "filthy rich." That stopped me cold. Where did he get such an American term? When we got off of the bus I told him that there were several "filthy rich" couples in the back of the bus, highly offended, bawling their eyes out, but for 5,000 kronas I'd go apologize to them for him. He laughed and said that the "filthy rich" don't ride in his bus; they go by limo.
Iceland sits atop the North Atlantic Ridge, where new land is constantly being created by magma welling up from the earth's core, as the European and North American tectonic plates drift apart, about 1 to 2 inches every year. We walked over a kilometer through this giant rift. The only thing I've seen like this before was while hiking the Rift Zone Trail at Point Reyes that sits on the San Andreas Fault, but it isn't nearly as spectacular as what we saw in Iceland.
Also famous are Icelandic horses, tough little devils brought over from Norway 1,000 years ago. They have survived all these years in a harsh environment, and are prized throughout the world due to their toughness and their gentleness around people. 
The summer weather, on the first of September, was nice, and the locals were loving it when, on the sixth day (so biblical), autumn cameth, and then ye verily, it becameth winter, with two giant winter storms setting off high winds and giant wild seas that killed off that day's zodiac boat excursion to see seals, ice floes and birds.
Instead, the captain weighed anchor and docked back in Reykjavik. We did get a nice certificate, suitable for framing, certifying that we had sailed above the Arctic Circle, and for you old salts, that point was at 66 degrees 33.8'N, 022 degrees 37.9 W.
The population of Iceland is 350,000 of which 200,000 are in a national DNA database. Since they are all of Viking ancestry, this site traced their genealogy back to the first settler, Ingolfur Arnarson in 874 A.D., who came with his brother-in-law, Hjorleifr Hroomarsson, who settled nearby but was later killed by his slaves.
Since there is very little in-migration, it's nice to know just who's related to whom and how closely. So, say you're in a bar or at some Lutheran church event and you meet someone, it goes well, BUT before you go out again you break out your phones, go to the DNA app, the phones communicate and the giant database will tell you if you're related back to the fourth generation. If you're not, date away! If you are, walk away!
Check out the week in cartoons
Lisa Benson cartoon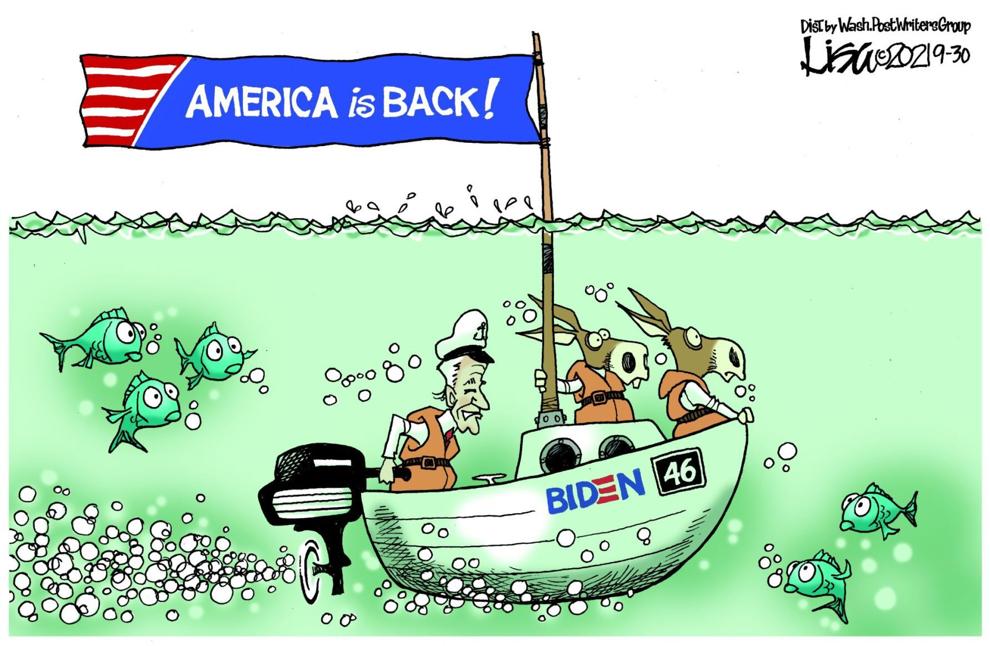 Jack Ohman, editorial cartoon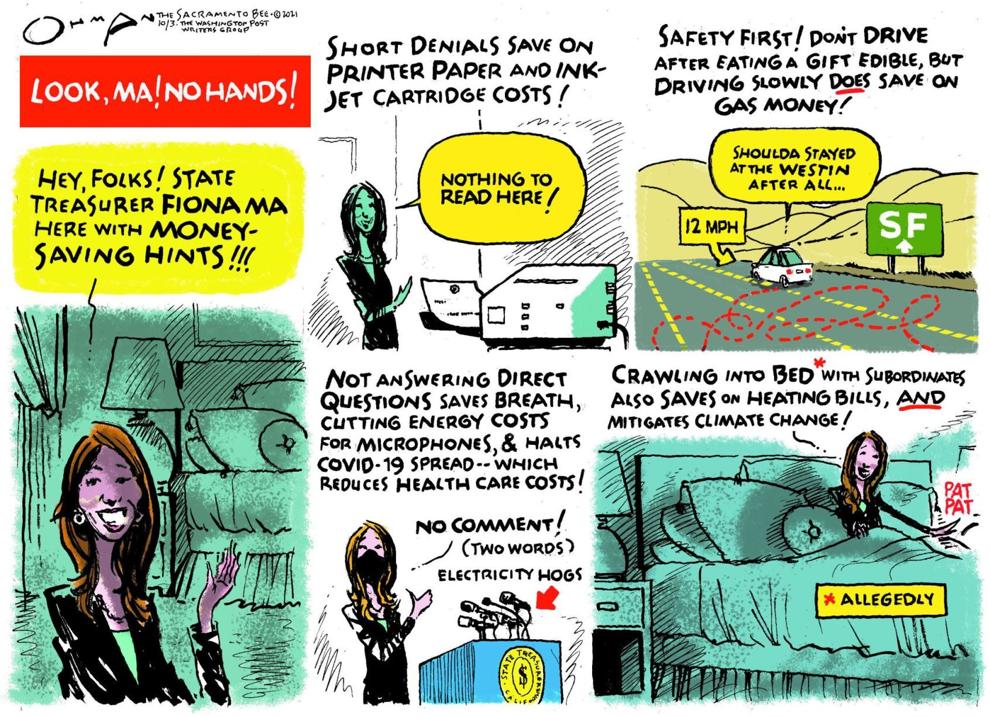 Jack Ohman, editorial cartoon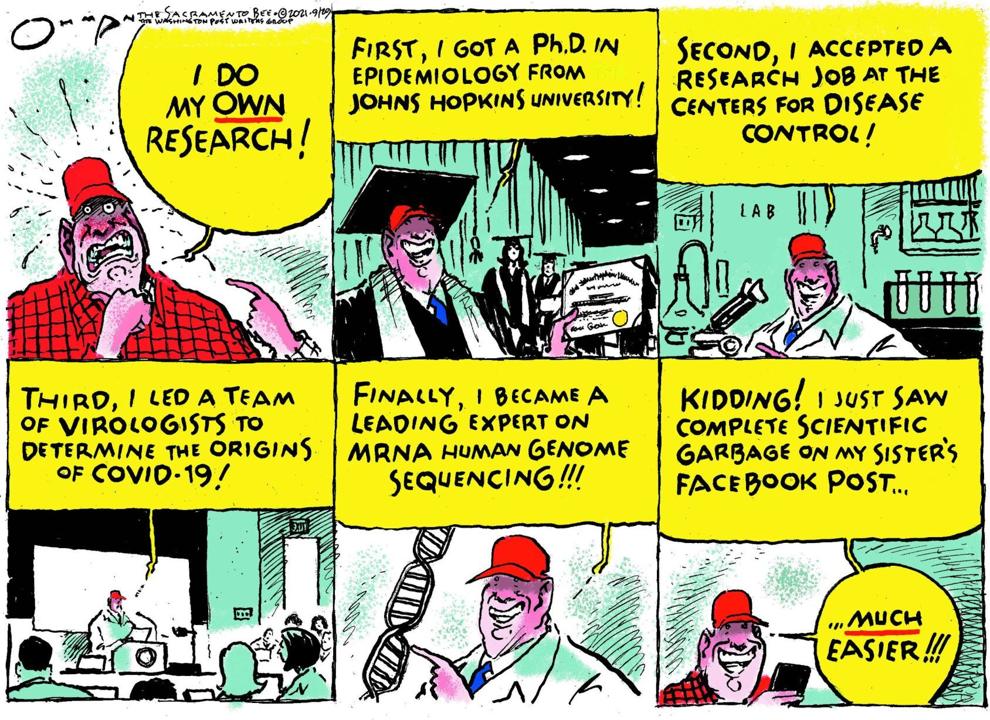 Jack Ohman, editorial cartoon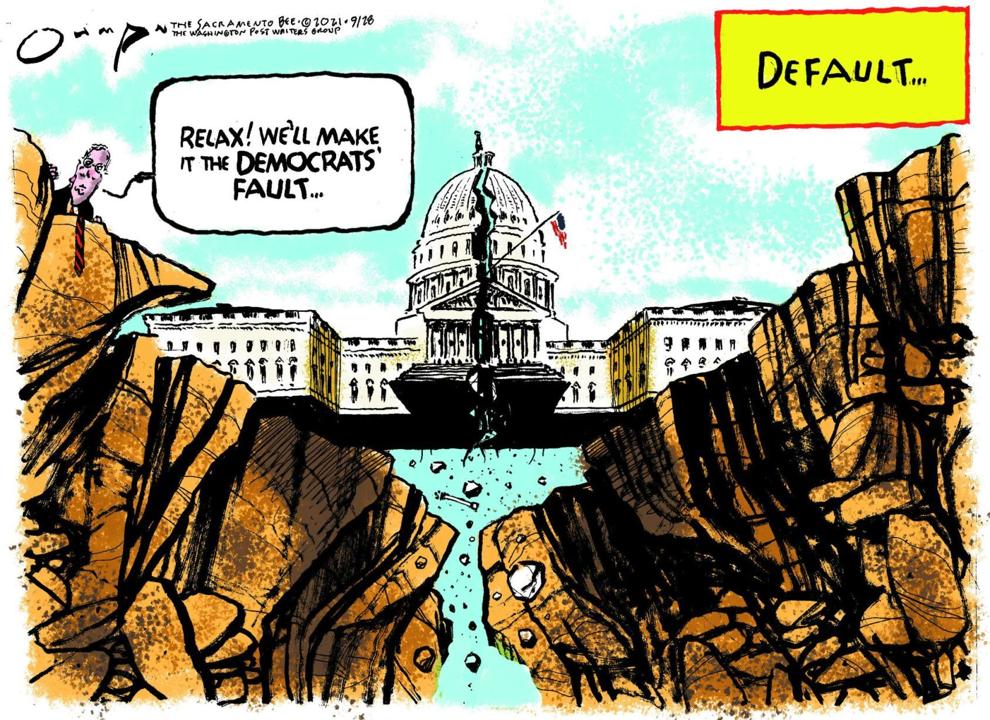 Jack Ohman, editorial cartoon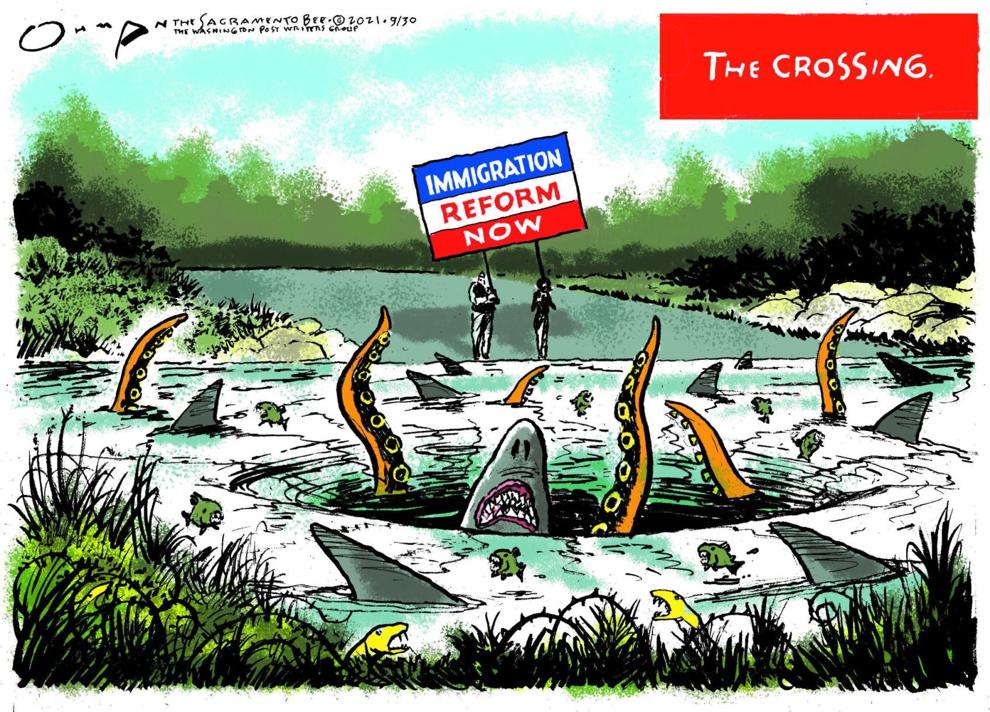 Clay Bennett cartoon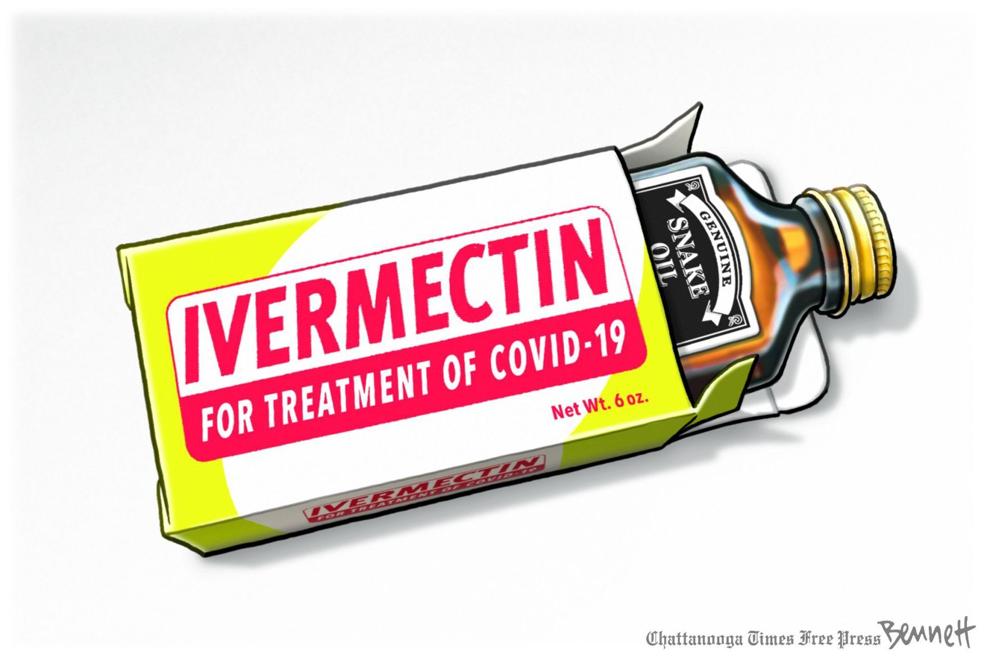 Clay Bennett cartoon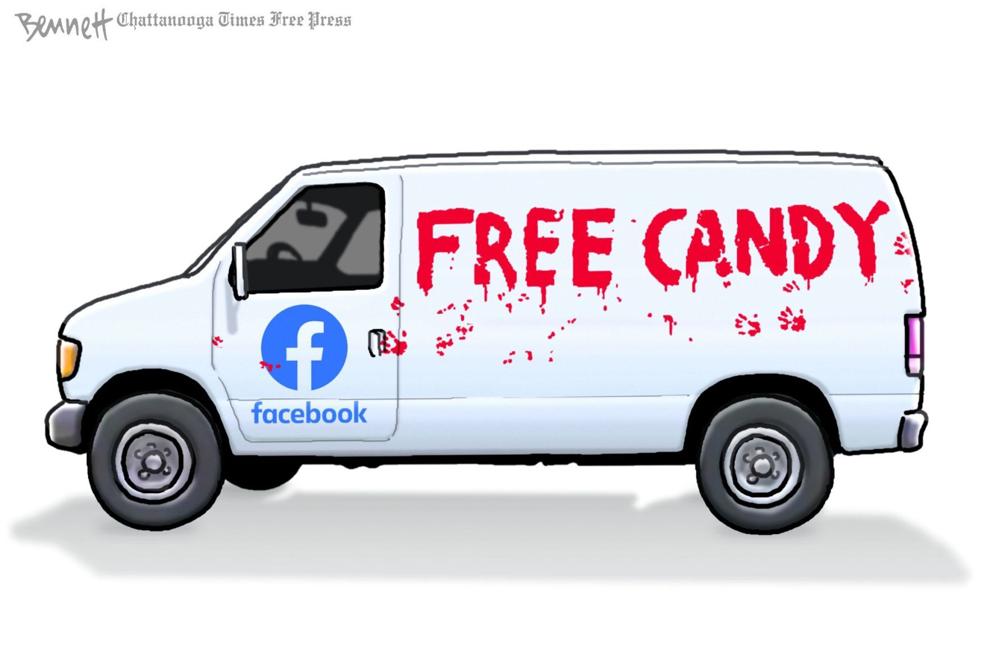 Clay Bennett cartoon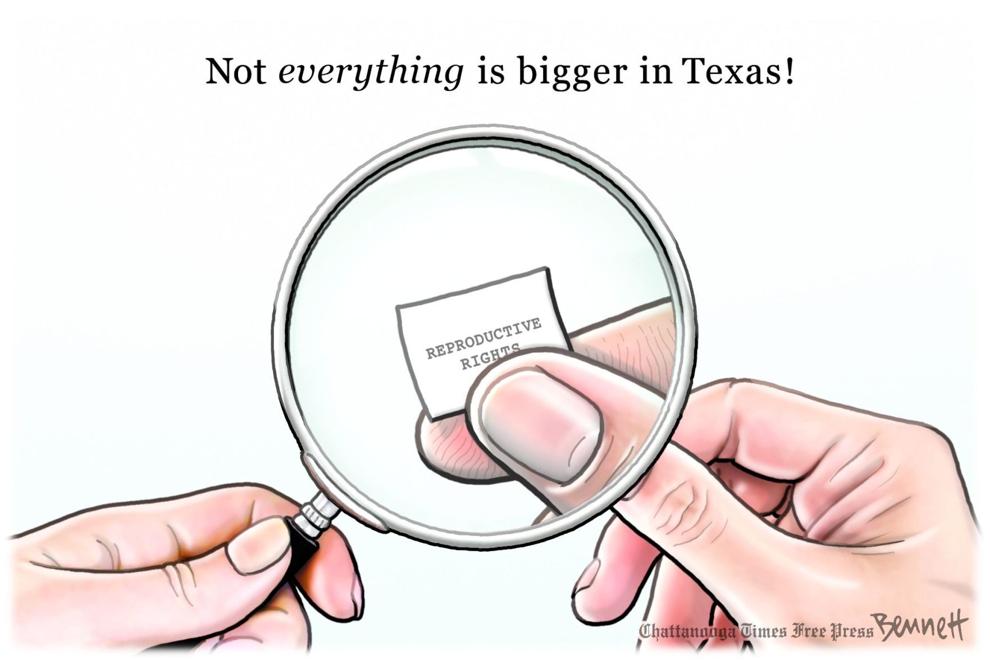 Clay Bennett cartoon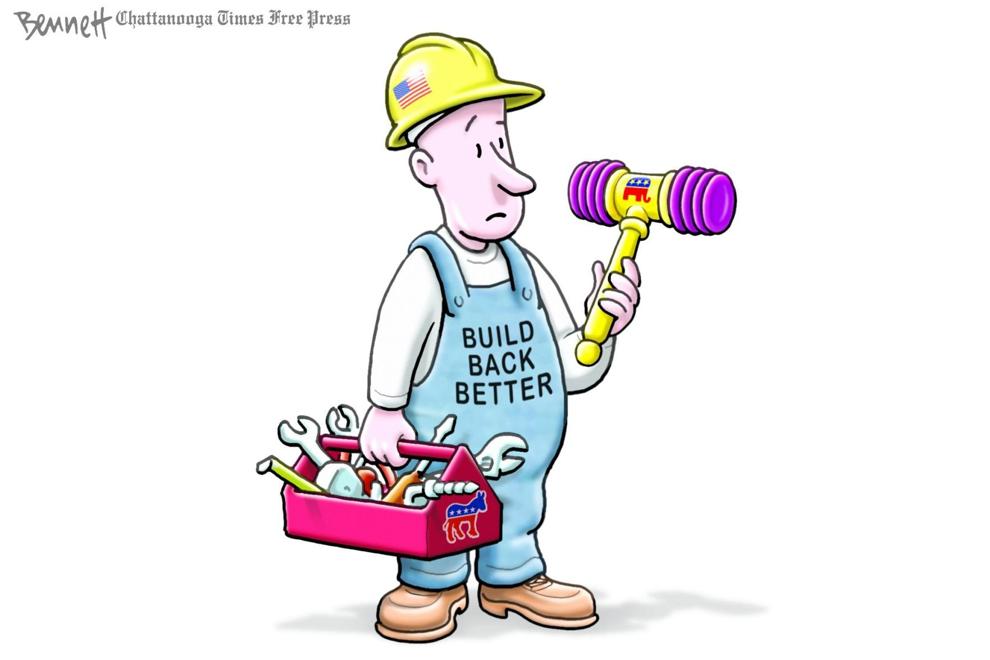 Clay Bennett cartoon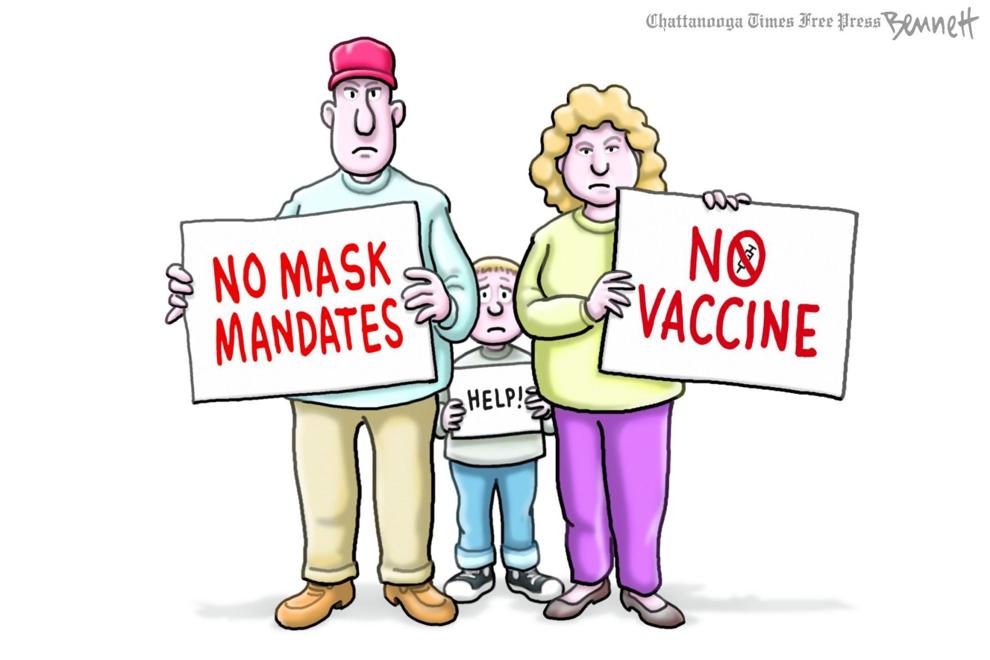 Jeff Danziger cartoon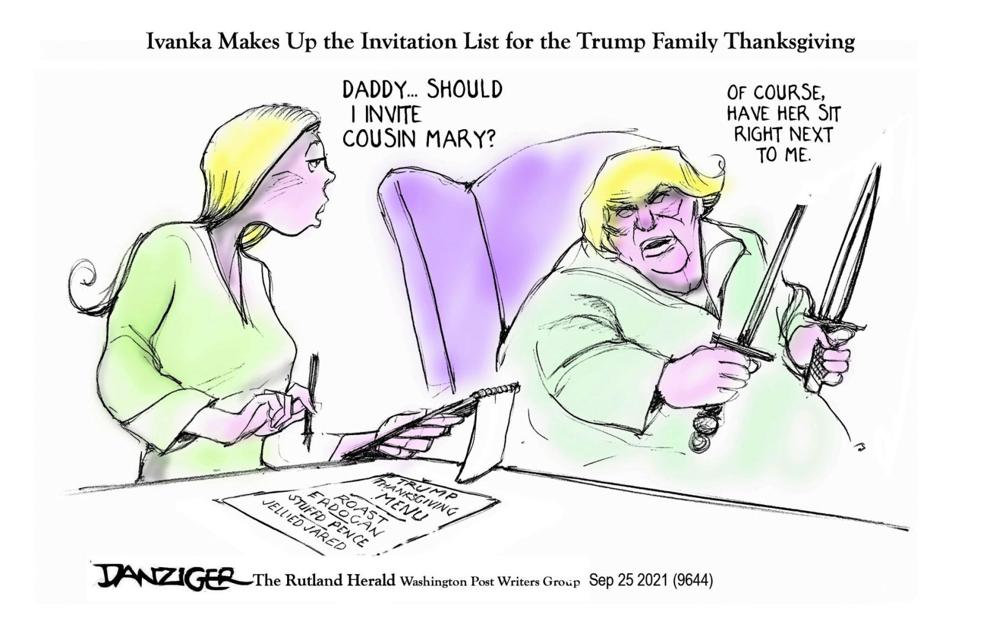 Jeff Danziger cartoon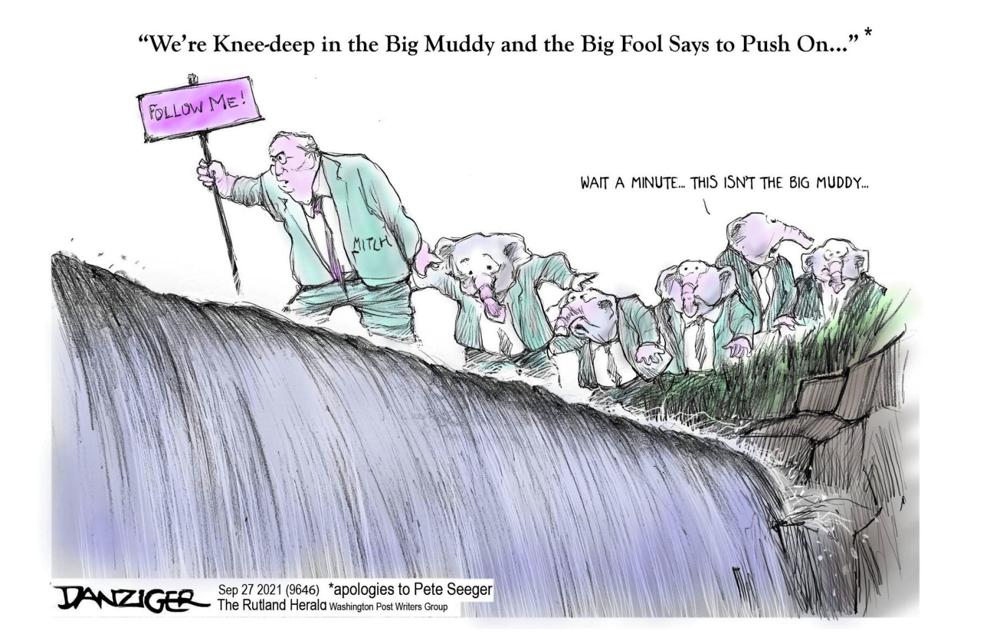 Jeff Danziger cartoon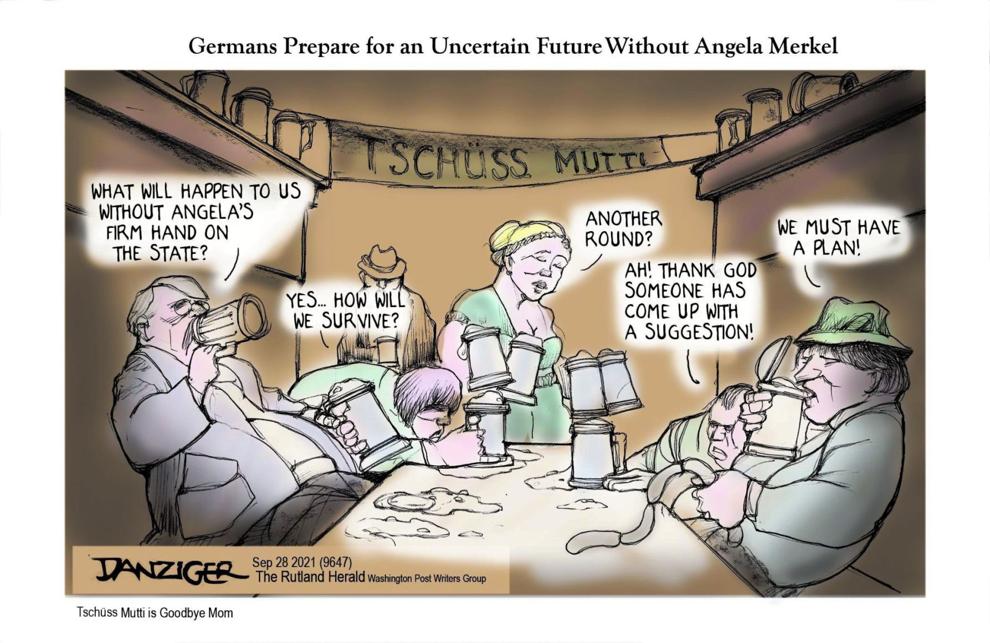 Jeff Danziger cartoon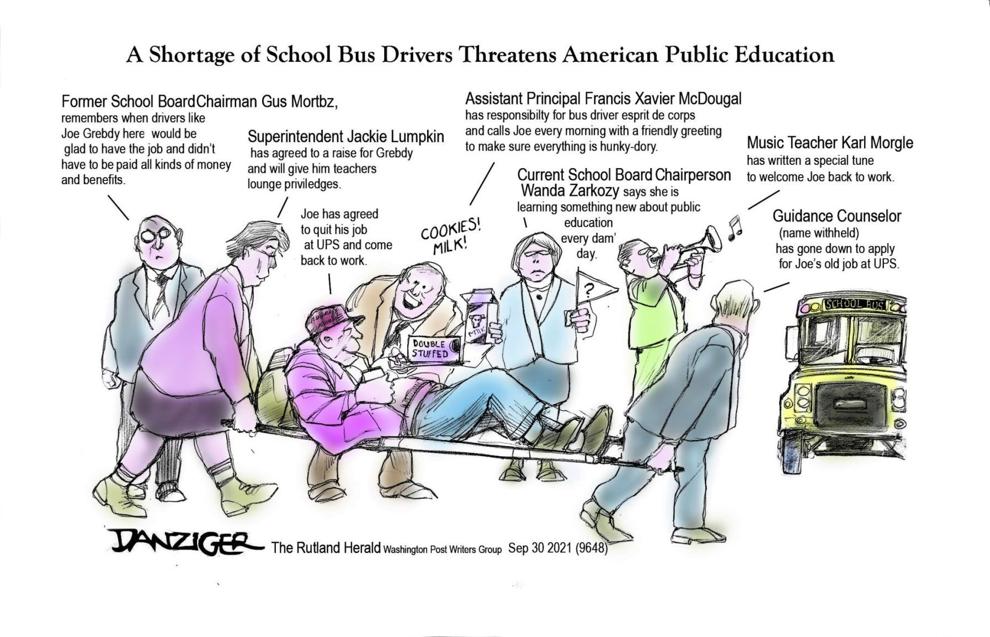 Jeff Danziger cartoon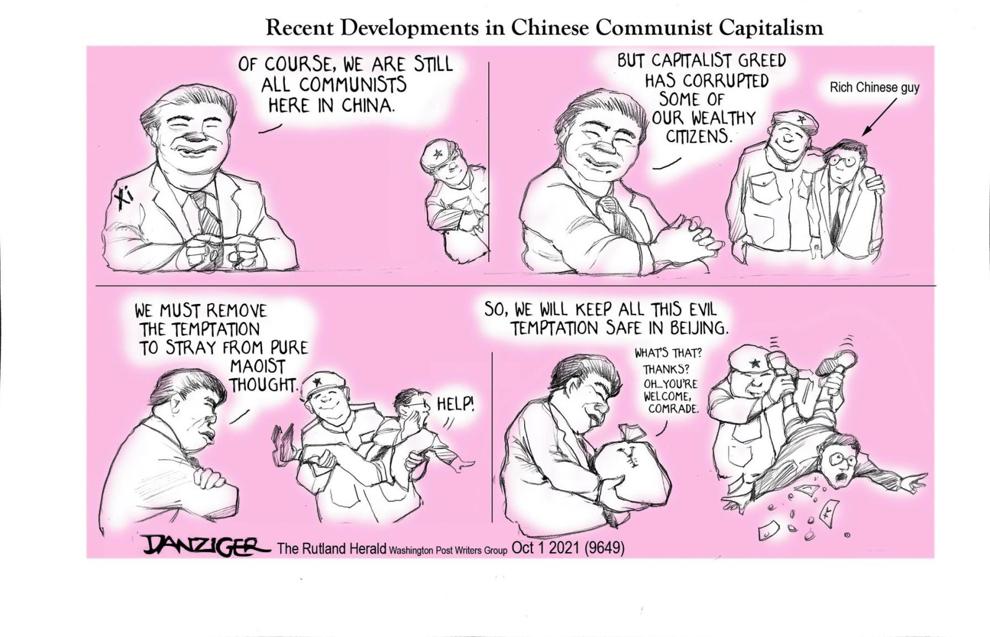 Lisa Benson cartoon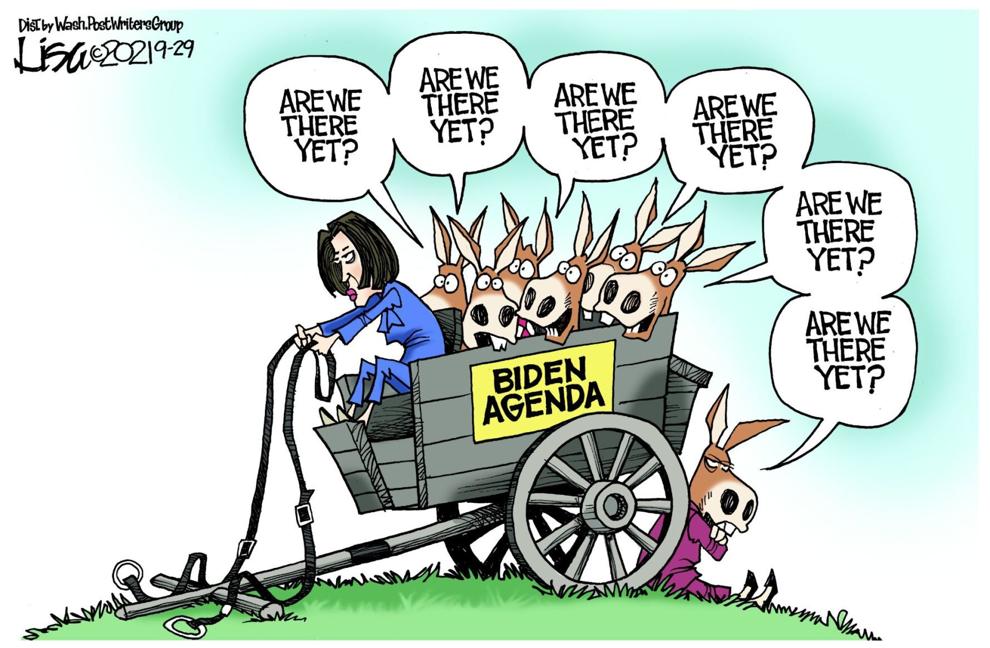 Lisa Benson cartoon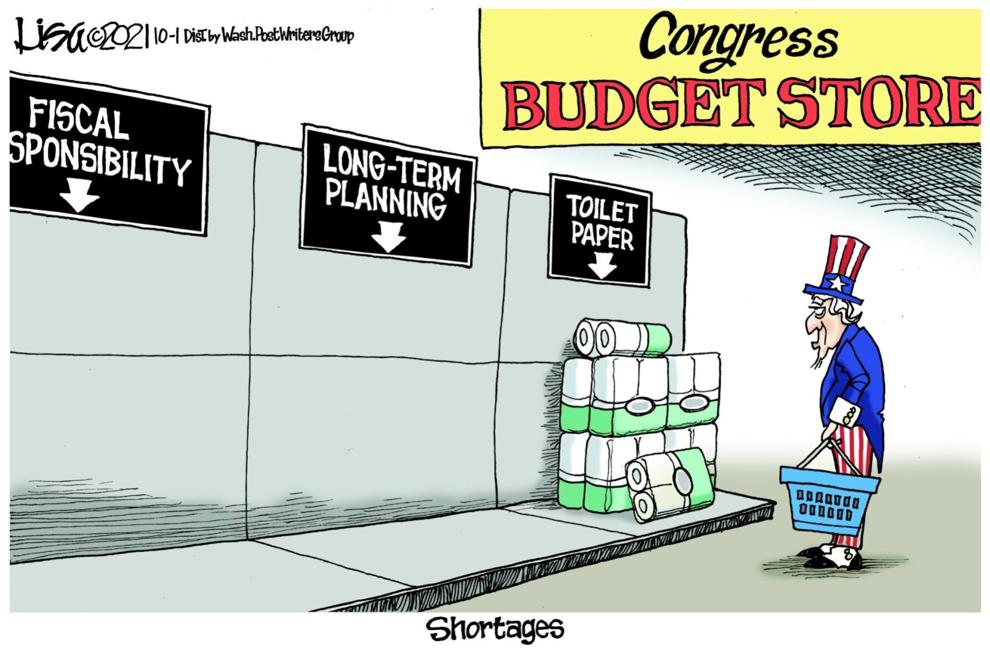 Tim Campbell cartoon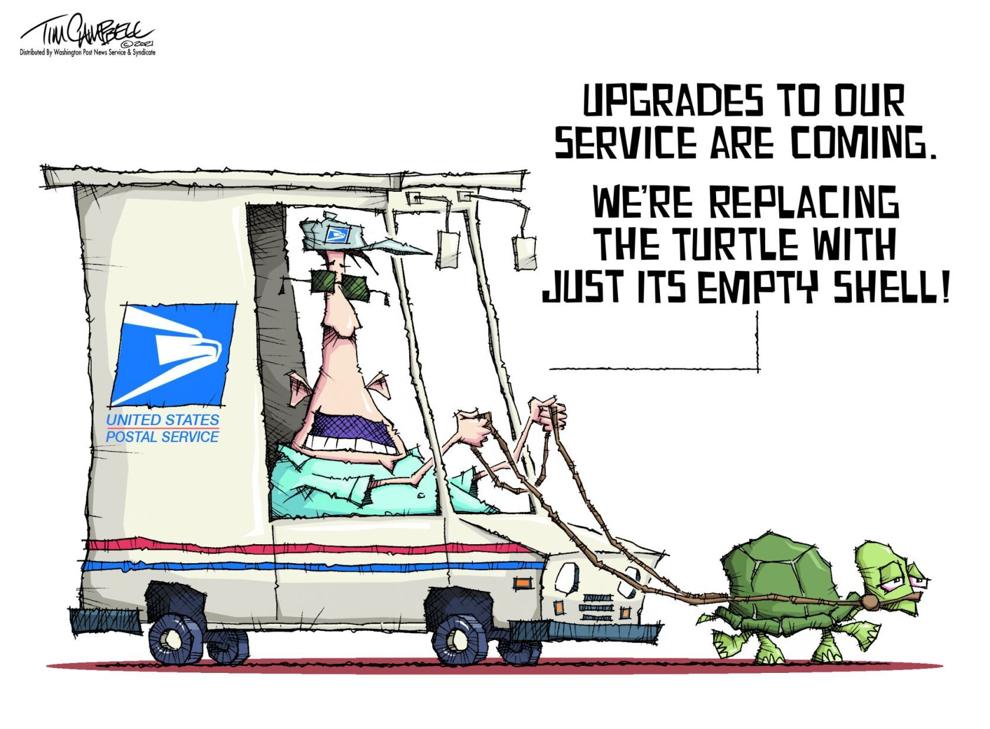 Tim Campbell cartoon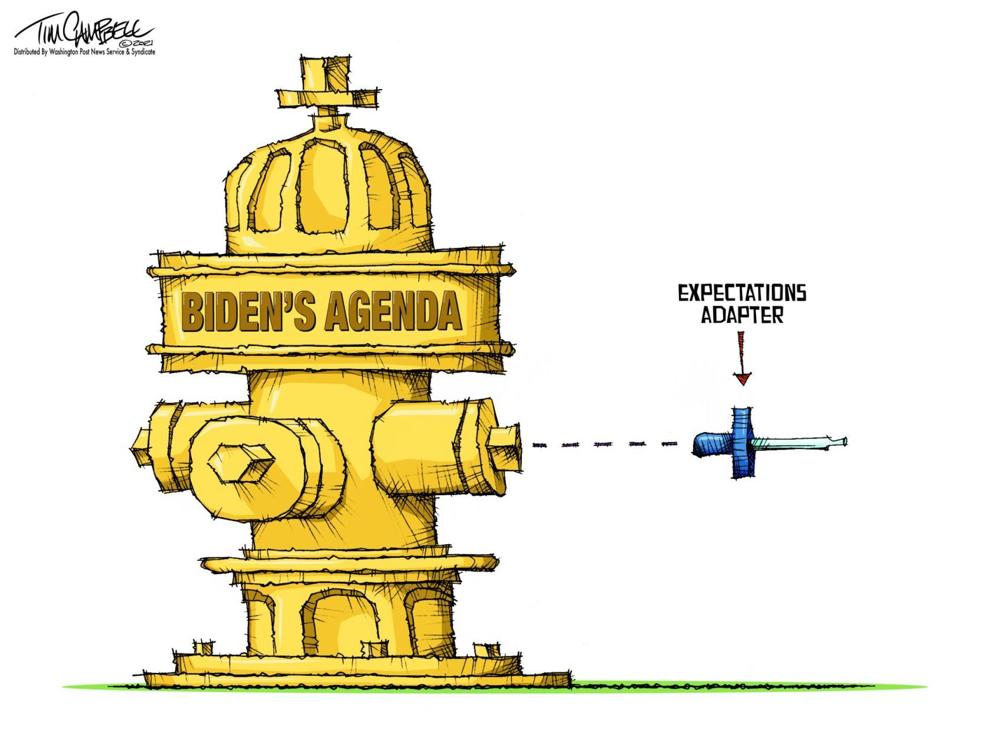 Micro-wineries would basically be wine tasting rooms without large, expensive wineries. Farmers who grow grapes and make wine on a small scale…
Futuristic fortresses, underground operations and everything in between seem to have a place in Napa Valley, whether they sit highway-side or …
According to a Napa city planning department application, a Wingstop restaurant could be coming to Napa.
Fairwinds Estate Winery says one of its insurers sold it a useless insurance policy shortly before the winery was destroyed by the 2020 Glass Fire.
A new Napa Valley Distillery cocktail bar and tasting room is headed to downtown Napa.
Bounty Hunter won't be moving to a planned building at First and Main Street that's gone unconstructed for four years. But the new building pr…
A recent event seemed like a seismic shock to old-timers in the west Vine Hill Drive neighborhood of the city of Napa — two homes there each s…
California's new single-family zoning law could bring a relatively high number of new units to Napa compared to other parts of California, acc…
One more drive-thru in the city of Napa is one too many, an environmental group is saying.
One of Napa's longtime bed and breakfast inns has pulled back the curtain on a 20-month, multi-million dollar renovation.
Start exploring magnificent places with our weekly travel newsletter.